Events
Click on the links to the right to view the full calendar of campus events.  
Please join The Highlands for our upcoming Blood Drive!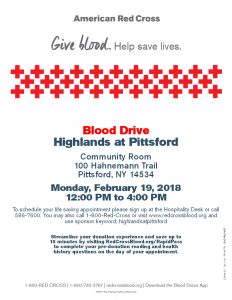 The following "UR In Tune" series is open to the public as well as residents of The Highlands.  
"UR In Tune!"
The Highlands at Pittsford, the Eastman School of Music, and the University of Rochester have joined forces to create an experience with music that enriches the heart, nourishes the mind, and heals the soul. All programs will be held in the Community Center at The Highlands at Pittsford, 100 Hahnemann Trail.  Class size is limited so sign up today!  To register, email HighlandsEvents@urmc.rochester.edu or call (585) 641-6303.
Jenny Lind: The Swedish Nightingale Visits Rochester Gerry Szymanski
Reserves and Digital Services Librarian at the Sibley Music Library
Adjunct Professor of Musicology, Eastman School of Music
Date: Thursday, March 22, 2018
Time: 4:00 pm-5:00 pm
In the summer of 1851, the arrival of singing sensation Jenny Lind created a wave of excitement in the City of Rochester. How did she get here? Where did she perform? What did she sing? This lively lecture will explain all and show the direct connection between her concerts and the founding of the Eastman School of Music! Join Gerry Szymanski for an in-depth look at how this Swedish soprano influenced music in nineteenth century Rochester.
Howard Hanson: The Man, The Myth, The Legacy
Vince Lenti
Coordinator, Primary and Secondary Piano Studies
Eastman School Historian
Date: Thursday, April 26, 2018
Time: 4:00 pm-5:00 pm
Howard Hanson was director of the Eastman School of Music for forty years, perhaps an unprecedented tenure as an educational leader. Arriving in Rochester when the school was about to commence its fifth year, Hanson spent the next forty years building the institution into one of the world's most prestigious schools for the training of musicians. Fifty-three years after his retirement, and thirty-six years after his death, his personal accomplishments are largely forgotten. Hanson's enduring legacy is the school which he led for four decades. Who was this man who made such a lasting impact on the Eastman School of Music and more generally on the education of musicians throughout the country?
This Month's Full Calendar